4 April, 2023
Introducing CHERRY XTRFY – the future of gaming peripherals
Following the successful acquisition of Xtrfy by CHERRY, the two renowned brands have joined forces to create CHERRY XTRFY – an innovative powerhouse in the gaming peripherals industry, set to be the new home for all future gaming peripherals, encompassing both existing and upcoming offerings from CHERRY and Xtrfy.
CHERRY and Xtrfy proudly unveil their new name, logo, and visual identity, signaling a fresh era in cutting-edge gaming gear and a unified portfolio of gaming peripherals.
"The merger of Xtrfy by CHERRY is a prime example of how diversification is crucial in esports. Both companies bring different strengths, networks, and product expertise, which complement each other perfectly. With the fusion of German engineering and Swedish design, this partnership is a match made in heaven, united by a shared love of gaming. As we move forward, we are excited to introduce our new gaming peripherals brand, which is driven by our vision for the future of esports. This vision encompasses diversity and inclusion, as we aim to promote a welcoming and inclusive community where everyone can participate and thrive", says René Schulz, Vice President Business Unit Peripherals at CHERRY.
The revamped identity reflects the brand's commitment to quality, performance, and the pursuit of next-generation esports equipment.
"We're passionate about esports and after years of collaborating with professional players, we're putting our hearts into growing our presence in competitive gaming. Ramping up our efforts in esports, we're committed to creating new products that help gamers win. Our dedication is symbolized by the Winner symbol – X – and verbalized through the CHERRY XTRFY tagline: In it to win it", says Joakim Jansson, Managing Director and Co-founder of Xtrfy.
The new brand and gaming peripherals will be housed under cherryxtrfy.com, and more news will be unveiled at CHERRY XTRFY's event in Cologne, Germany on April 26th.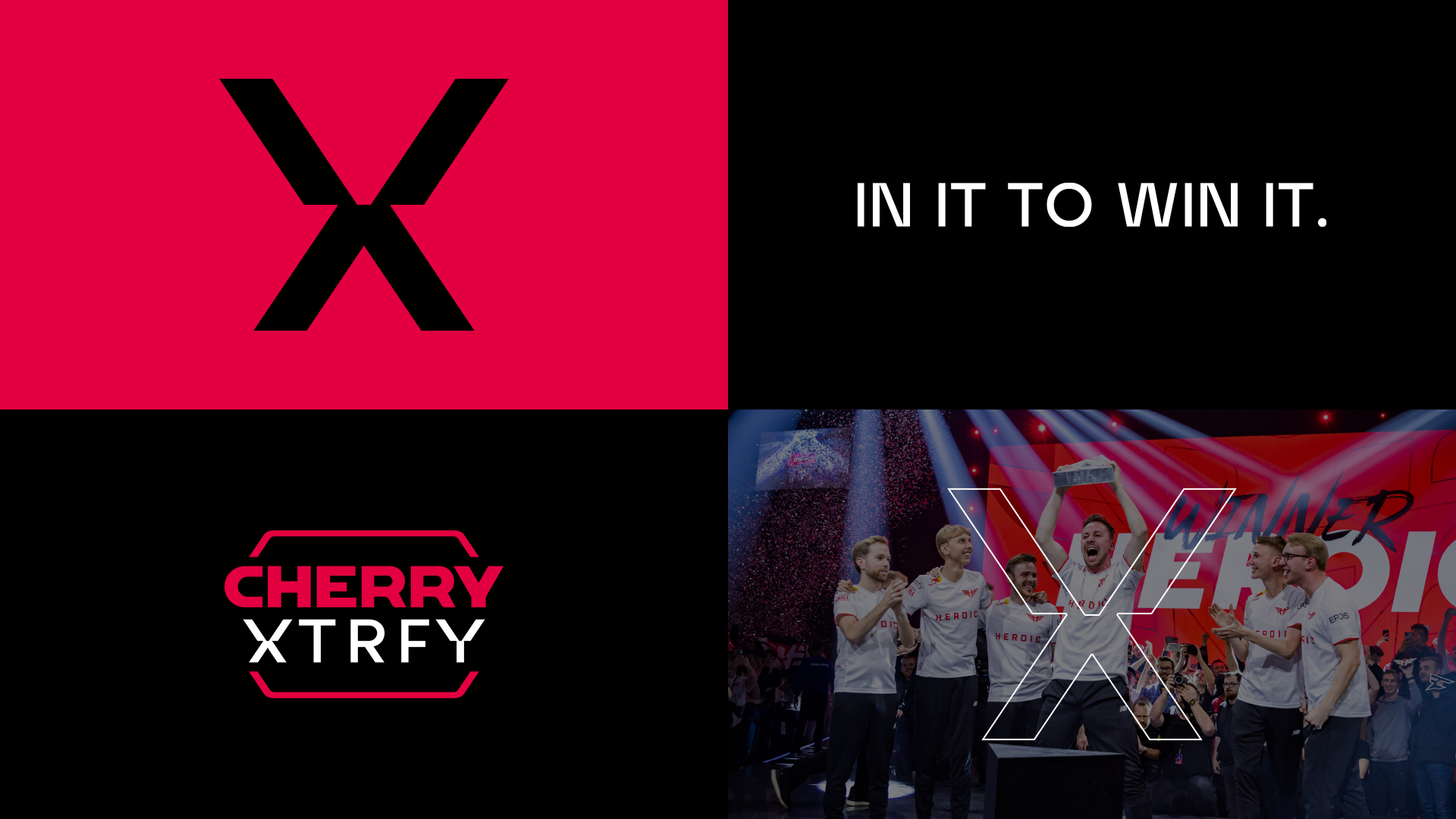 BACKGROUND
About Xtrfy
At Xtrfy, we elevate the gaming experience by making pro-level performance available to gamers of all levels, with designs that allow you to express yourself. Developed in collaboration with some of the world's most merited players, our products are based on well-proven technology and the most important component of all: experience. Since 2013, we've been in it to win it – combining knowledge with new ideas to help gamers perform at their best. We challenge the industry with innovative product designs, colorful aesthetics and a new level of customizability – making it possible for all gamers to personalize their gear. Join us as we create the new generation of esports equipment: cherryxtrfy.com
About CHERRY
Cherry SE [ISIN: DE000A3CRRN9] is a globally operating manufacturer of high-end mechanical keyboard switches and computer input devices such as keyboards, mice, and headsets for applications in the worlds of gaming, esports, office and hybrid workplaces, industry, and healthcare. Since it was founded in 1953, Cherry has been synonymous with innovative, high-quality products developed specifically to meet the various needs of its customers.
Cherry has its operational headquarters in Auerbach in Germany's Upper Palatinate region and employs over 500 people in production facilities in Auerbach, Zhuhai (China), and Vienna (Austria) as well as in various sales offices in Auerbach, Pegnitz, Munich, Paris, Landskrona (SWE), Kenosha (USA), Taipei, and Hong Kong. More information is available online at cherry.de
MEDIA CONTACTS:
Joakim Jansson, Managing Director and Co-founder of Xtrfy:
joakim.jansson@xtrfy.com, +46 768 50 56 70.
Holger Daßler, Head Of Digital & Content Marketing, CHERRY:
+49 9643 2061 541, holger.dassler@cherry.de
Press release as PDF: Download
Logotype and creative guideline: cherryxtrfy.com/logotype