10 April, 2023
CHERRY XTRFY partners with Team Vitality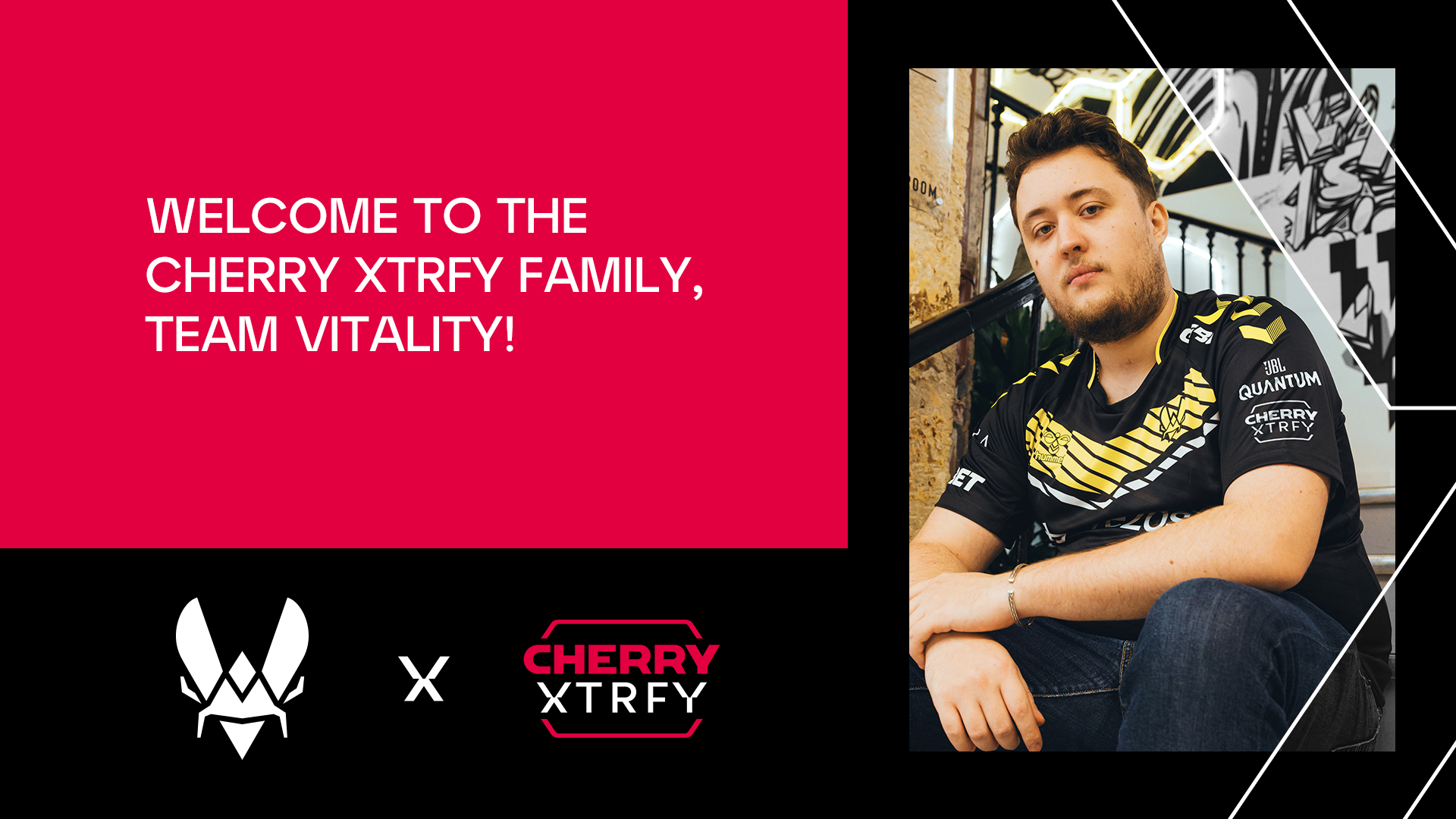 CHERRY XTRFY has teamed up with top French esports club Team Vitality, providing the organization's premises and its players with state-of-the-art gaming equipment for the next two years.
Team Vitality, one of the leading esports organizations in France and Europe, chooses CHERRY XTRFY as its partner for gaming peripherals, including high-performance keyboards, mice, and mousepads. 
GLOBAL SUPPORT, WITH A FOCUS ON TEAM VITALITY'S CS:GO DIVISION
Equipping Team Vitality with top-tier gaming gear, CHERRY XTRFY will help the team's athletes to perform at the highest level of esports. CHERRY XTRFY will also provide equipment for Team Vitality's three physical entities: the offices (V.Hive in Paris) and the performance centers (Berlin and Stade de France). The two companies also aim to develop co-branded products for the esports and gaming audience.
As an official partner, CHERRY XTRFY will have a place on the CS:GO team jersey, starting with the first match of the qualifying rounds of the Paris Major: RMR in Copenhagen on April 11. Team Vitality players will be able to benefit from quality products to arrive in the best possible conditions at the most exciting esports event of the year.
In addition, CHERRY XTRFY will be able to connect with 12 million fans on Team Vitality's social networks through activities organized throughout the year.
AN ALLIANCE BETWEEN THE MOST AMBITIOUS GAMING BRAND AND THE LEADING ESPORTS TEAM IN FRANCE AND EUROPE
This alliance illustrates the international ambitions of CHERRY XTRFY, recently renamed from Xtrfy after merging with CHERRY – a globally operating manufacturer of high-end mechanical keyboard switches and computer peripherals. With Team Vitality, CHERRY XTRFY wants to reach a large community of esports enthusiasts and aim for the highest level of international competition.
Team Vitality and CHERRY XTRFY both have a strong legacy within the esports scene. CHERRY XTRFY's expertise has led it to sponsor other major esports organizations such as Norway's Heroic, Australia's Grayhound Gaming, and China's LNG Esports. As such, the brand considers Team Vitality to be the best partner to continue to expand their presence in esports and their various European markets.
"Team Vitality is a world-renowned organization with iconic players. As we are ramping up our efforts in esports, we are looking forward to growing our presence in the scene, collaborating with the team and creating something unique for the community", says Joakim Jansson, Managing Director of CHERRY XTRFY and Co-founder of Xtrfy.
"We are very happy to welcome CHERRY XTRFY as an official partner. We know that this brand is a reference for quality and performance within an ever-changing industry. And the timing of their arrival at Team Vitality is ideal. CHERRY XTRFY will be at the heart of our 10th anniversary celebrations and will benefit from our presence in the biggest international competitions", says Nicolas Maurer, CEO of Team Vitality.
MEDIA CONTACTS:
CHERRY XTRFY:
Joakim Jansson, joakim.jansson@xtrfy.com
Team Vitality:
Sarah Mittelette, sarah.mittelette@vitality.gg
Natalie Bahbout, vitality@swiperightpr.com
Press release as PDF: Download
ABOUT CHERRY XTRFY
German engineering and Swedish design, brought together by a passion for gaming. At CHERRY XTRFY, we elevate the gaming experience by making pro-level performance available to gamers of all levels, with designs that allow you to express yourself. Developed in collaboration with some of the world's most merited players, our products are based on well-proven technology and the most important component of all: experience. We challenge the industry with innovative product designs, colorful aesthetics and a new level of customizability – making it possible for all gamers to personalize their gear. Join us as we create the new generation of esports equipment: cherryxtrfy.com
ABOUT TEAM VITALITY
Team Vitality is a French esports organization created in 2013 by Fabien "Neo" Devide and Nicolas Maurer. In ten years, the organization has become a leader in France and Europe and is evolving internationally competing in 6 titles: League of Legends, CS: GO, VALORANT, FIFA, Rocket League and Call of Duty Mobile. Composed of international players with exceptional talent, the organization is fully dedicated to the identification and development of esports athletes. Team Vitality has three international offices across the world in Paris, Berlin and Mumbai where it trains its athletes and connects with its fans. In total, the Team Vitality community has more than 12 million fans across all social networks, which it also unites on its V.Hive mobile application. Team Vitality is proud to have global partners such as Tezos and hummel.